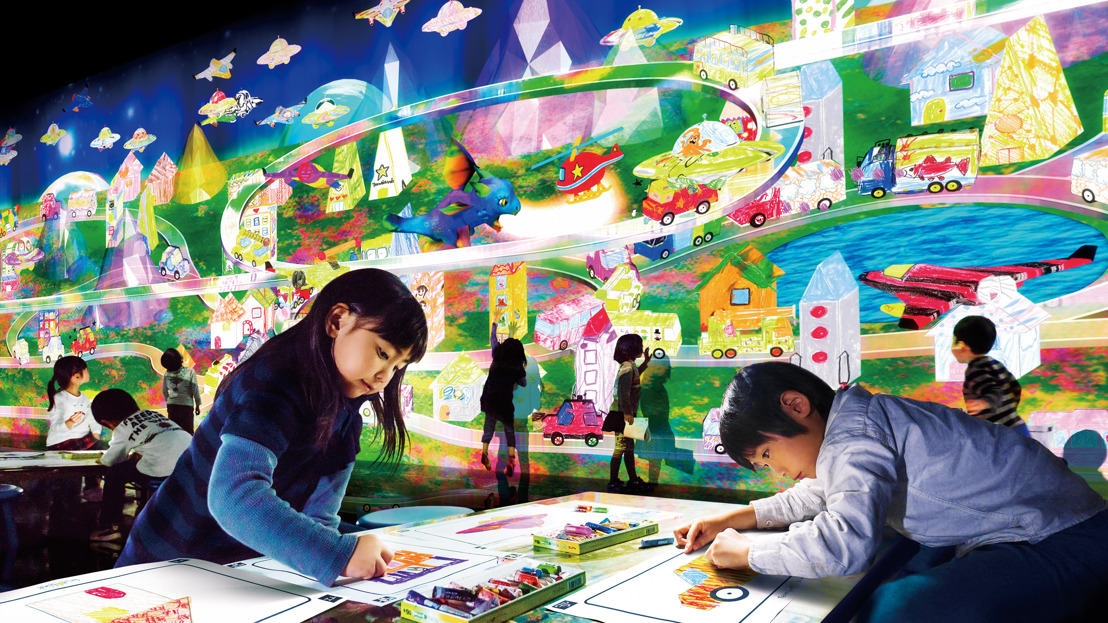 Grand opening for new digital art experience at Mall of Georgia set for Saturday, May 14
Area families can explore interactive hi-tech playground in the Village May 14 – July 31
Wednesday, May 11, 2016 — TeamLab, a Japanese art collective recognized for their advancements in the digital art practice, will celebrate the grand opening of its interactive hi-tech playground in the Village at Mall of Georgia on Saturday, May 14 from 10 a.m. – 7 p.m. This educational exhibition, titled teamLab Future Park, is a series of deeply immersive environments utilizing light, sound, video, digital sequences and virtual-reality to foster educational play and collaboration through digital art. As its first official opening on the east coast, the installation will offer innovative opportunities for Mall of Georgia families to actively participate in the artworks. The exhibition will have a limited engagement at Mall of Georgia from May 14 – July 31.
Tickets to experience teamLab Future Park at Mall of Georgia are available onsite or online at bit.ly/MOGteamLab. To guarantee admission and avoid long wait times, the mall recommends purchasing advance tickets online. General admission is FREE for children up to 2 years old, $8 for children ages 3-13 and $12 for adults. Discounts are available for student, senior and groups. For additional ticket information, visit bit.ly/MOGteamLab.
WHAT: Grand Opening of teamLab Future Park at Mall of Georgia
WHEN: Saturday, May 14
10 a.m. – 5 p.m.
Full exhibition hours are as follows:
May 14 – May 27*
Monday – Thursday: 10 a.m. – 6 p.m.
Friday – Saturday: 10 a.m. – 7 p.m.
Sunday: 12 p.m. – 6 p.m.
*TeamLab will open from 1 p.m. – 6 p.m. on Sunday, May 15
May 28 – July 31
Monday – Saturday: 10 a.m. – 7 p.m.
Sunday: Sunday: 12 p.m. – 6 p.m.
WHERE: Mall of Georgia (Village), 3333 Buford Drive, Buford, GA 30519
TICKETS: bit.ly/MOGteamLab
MEDIA: Media are invited to capture the following visuals:
Visitors interacting with various experiences in the exhibition
Interviews with guests
Interview with teamLab spokesperson
Interview with Mall of Georgia spokesperson
Seven immersive exhibit 'experiences' including Sketch Aquarium, Create! Hopscotch for Geniuses, Sketch Town, Sketch Town Papercraft, A Table Where Little People Live, Light Ball Orchestra and Connecting! Train Block
CONTACT: For media interviews or digital art exhibition visit requests for coverage, please contact Jennifer Walker at jwalker@bravepublicrelations.com or 404-233-3993.
# # #